Come join us Tuesday, October 12 for a hiring event at our main center.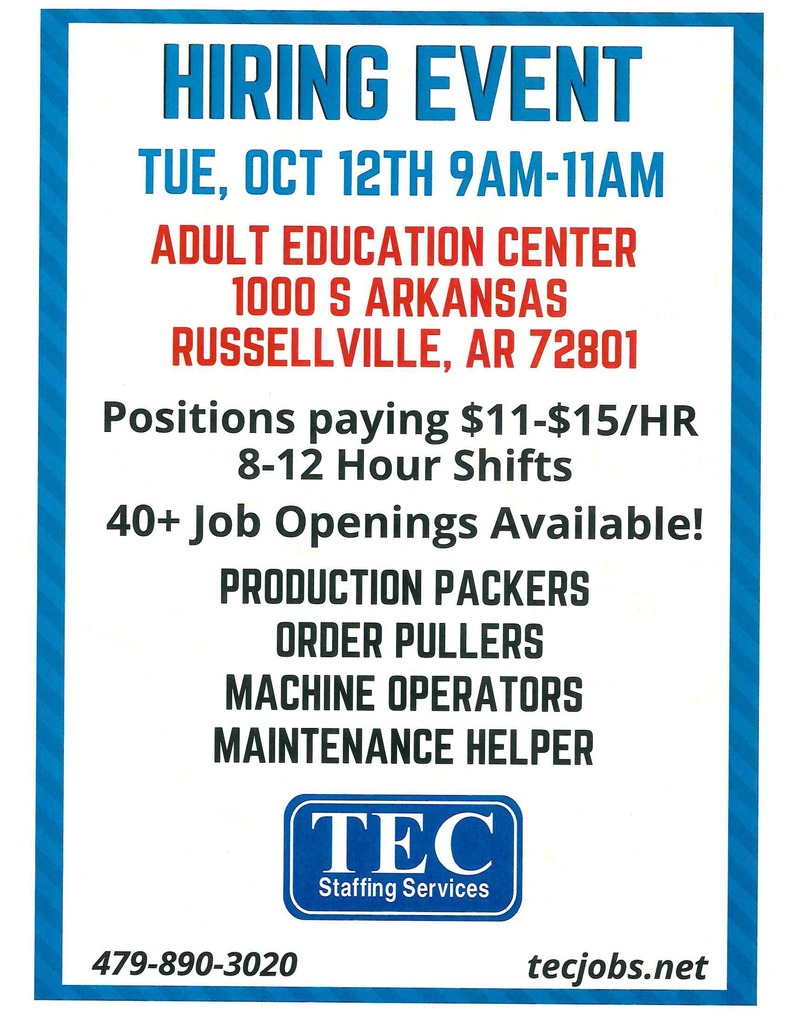 It's the first day of Autumn, come earn your GED. Autumn earned her GED today!!
Beginning Monday, August 16 all students and staff are required to wear a mask upon entering Adult Education centers.


Have you visited our Enrollment page? We have one page for kindergarten, preschool, and virtual learning enrollment, as well as registration for new and returning students! You can also find important documents and instructions. Check it out!
https://www.russellvilleschools.net/page/enrollment1
*The deadline for RSD's virtual learning option is fast approaching! Register your student by March 31st!

We want to hear from you! RSD would like to hear from our community, parents, and students! Please take the time to take this short survey on virtual learning. (Your participation is welcome even if you have no interest in enrolling your student in virtual learning for the upcoming school year.) ¡RSD quisiera saber de nuestra comunidad, padres y estudiantes! Tómese el tiempo para responder esta breve encuesta sobre aprendizaje virtual. (Su participación es bienvenida incluso si no tiene interés en inscribir a su estudiante en el aprendizaje virtual para el próximo año escolar).
https://docs.google.com/forms/d/e/1FAIpQLSenFWox4fMSLmOESRGOSS2XVf-GZW9Yc6w1W1p2xCgH7M7vTQ/viewform

Classes have resumed at all our centers.

Classes will be closed today.
Classes are closed until further notice. Stay safe and warm.
Classes will be closed tomorrow, Tuesday, February 16, 2021.
Russellville Adult Education classes will be closed Monday, February 15, 2021 due to inclement weather. Please stay safe and indoors if possible.
Adult Education classes will be closed on Thursday, February 11, 2021. Be safe and keep warm!!



RSD January Employees of the month honored at the January School Board Meeting. Congratulations!

Congratulations to those employees recognized at last night's board meeting as RSD's January Employee's of the month!


Changes made following Governor's address on Tuesday, December 12, 2021: The first groups in Phase 1-B will be eligible to get the vaccine beginning on Jan. 18. These groups are Arkansans 70 or older and education workers including K-12, child care and higher ed. Additional groups will be eligible in 1-B as supply increases.
https://www.healthy.arkansas.gov/programs-services/topics/covid-19-vaccination-plan
The chart below details the plans for Phases 1-B and Phase 1-C.